A Hawaii Portfolio
I have some old Hawaii pics in a photo album somewhere in the garage. We did lots of traveling as a family in the 80s and 90s and got to China, Austria, Italy, ... Hawaii a few times. My folks were both Army brats and were good travelers. I had a point and shoot (way before digital was a thing) and probably shot 10 rolls of film during our first Kauai trip. But back then even a couple of OK shots out of 240 was good.
To be fair when you're traveling with a group, you catch shots as you can. But even so, I didn't have a clue how to turn a memorable spot into a photograph that speaks to another person. So, here's the best Kauai shot I took.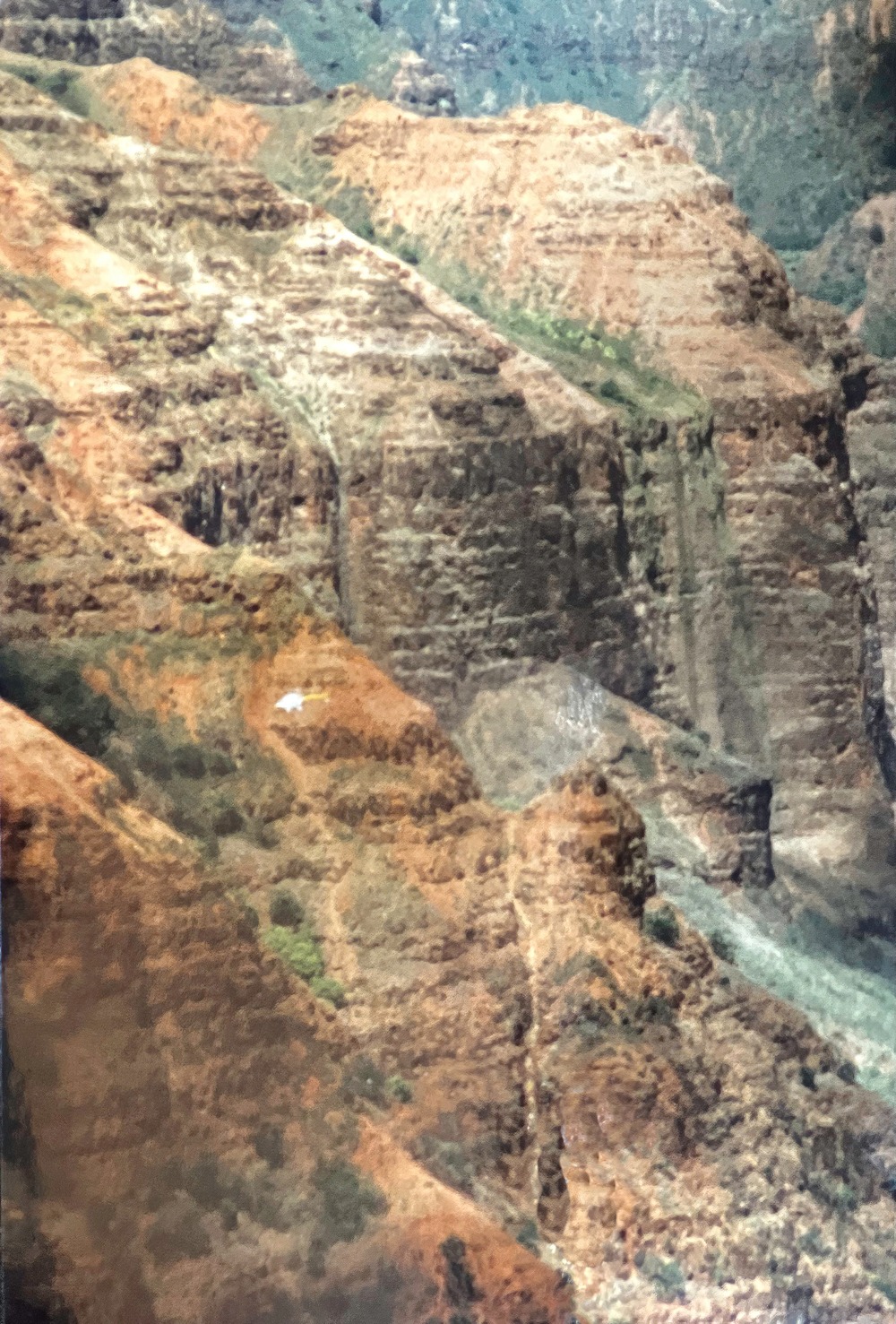 Waimea Canyon with Helicopter (mid '80s)
Even with how primitive point and shoots were in the 80s, this photo is crude. The cliffs are cropped too tight, the visual elements were all mushed together. But there is a helicopter.
My landscapes started to improve when I moved to SoCal in the late 90s and started taking classes. There's only so far you can go without knowing the technical stuff, the levels of the game. By the time of my 2012 Oahu shots I got that composition is king.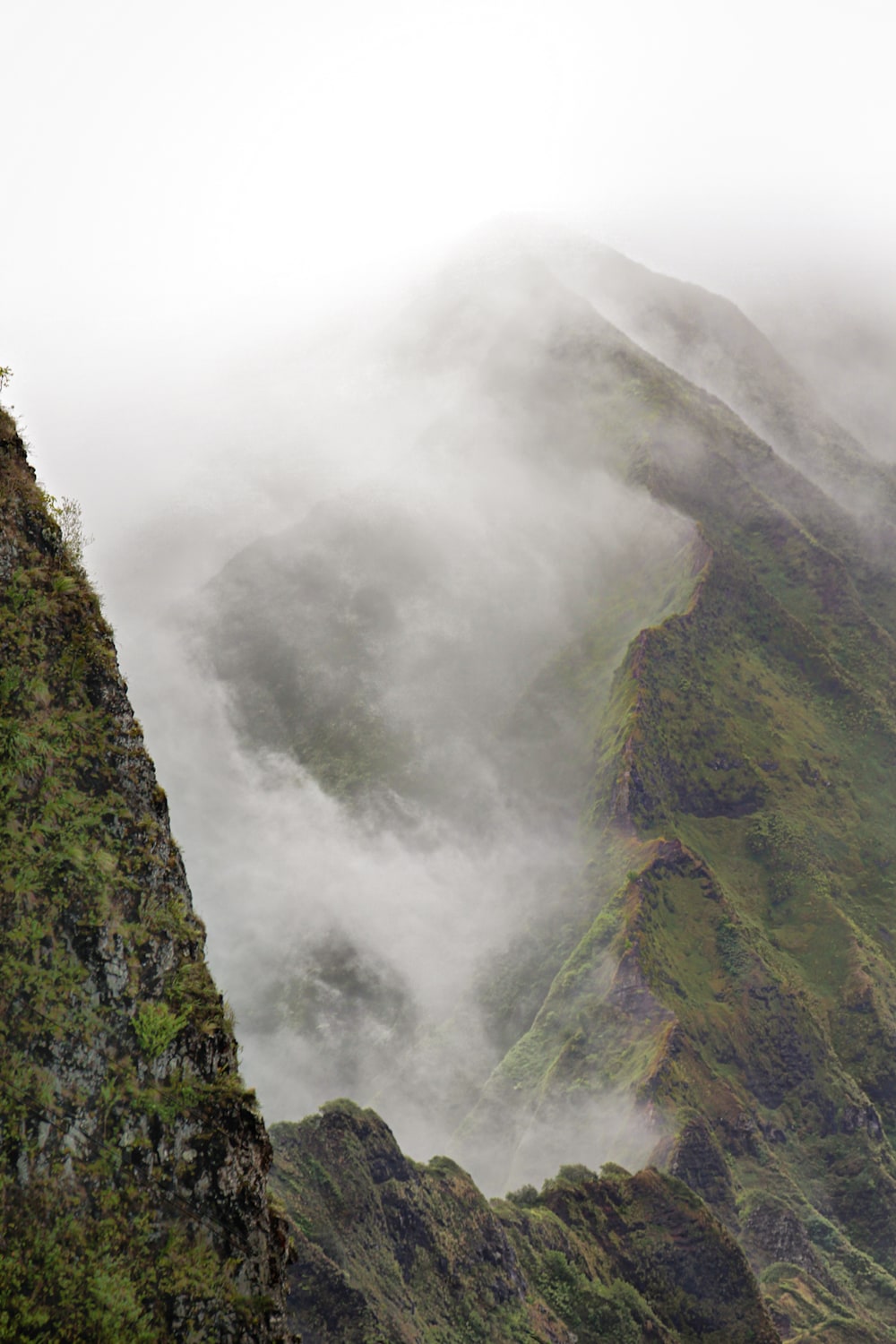 Early on I would only have taken a big wide angle shot of this volcanic wall. And it does go on forever all most. But I had the intuition to go close and abstract -- like the way the old Chinese pen and ink landscapes do with foggy mountains.
By our 2017 visit to Kauai I was surprising myself more often. Starting to see a composition, how to frame the core pieces of a design. I did one of those doors-off helicopter tours on that trip. Imagine a copter rushing through the Na Pali cliffs at 100 mph -- fast enough so if you don't frame and shoot that hidden waterfall within a second, you lost it. The trip was an hour-long piece of photo improv theater.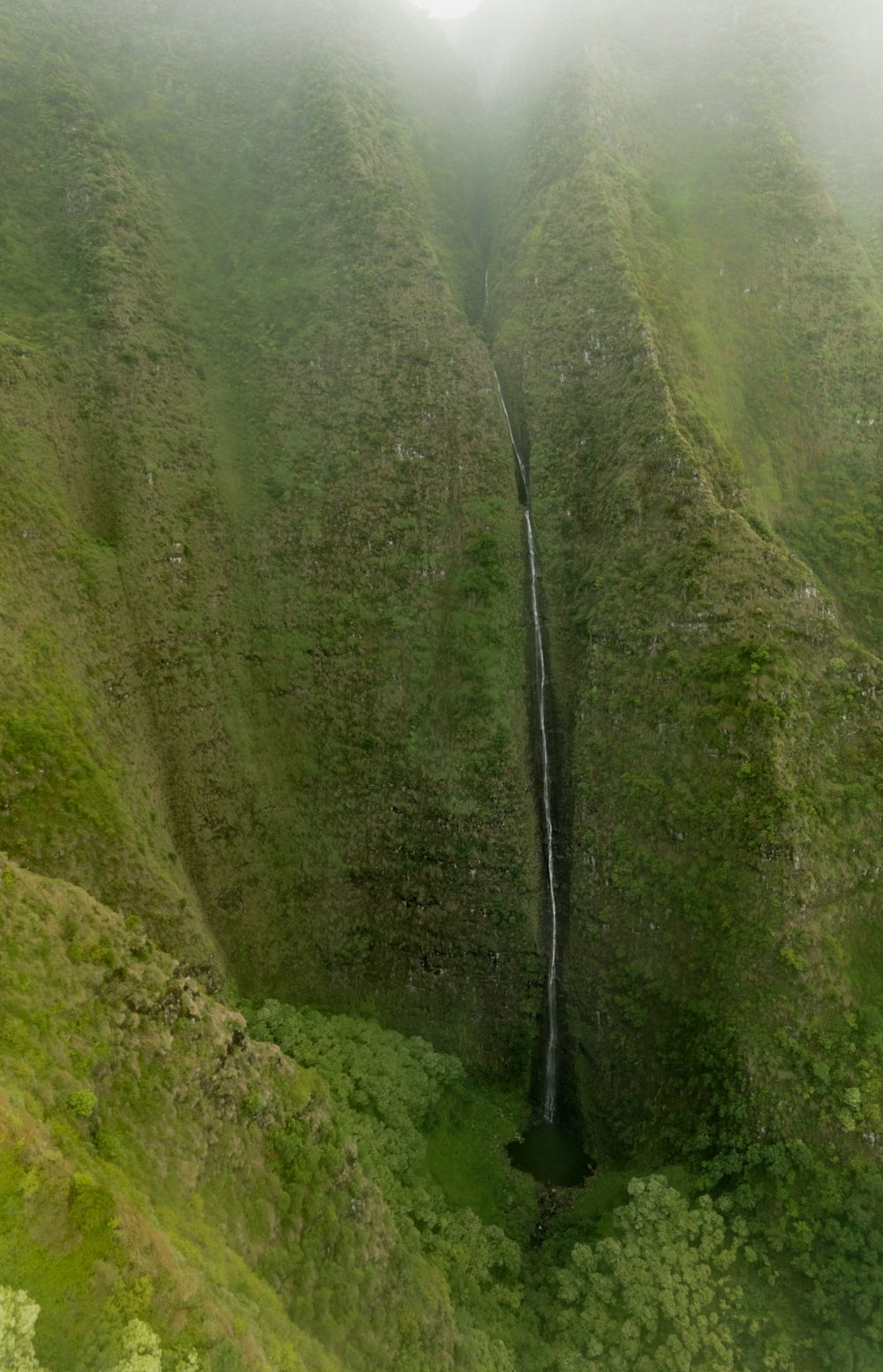 Core of the Ancient Volcano, Kauai
Three years later, when Marina and I stayed on Maui I was thinking of color and depth as essential design elements. And I was doing my own printing. More tools in my tool box, more keepers. By now I was going out when the light is good, working the scene professionally. In our week on the island, I ended up with 4 or 5 images that I still like - they're in this gallery.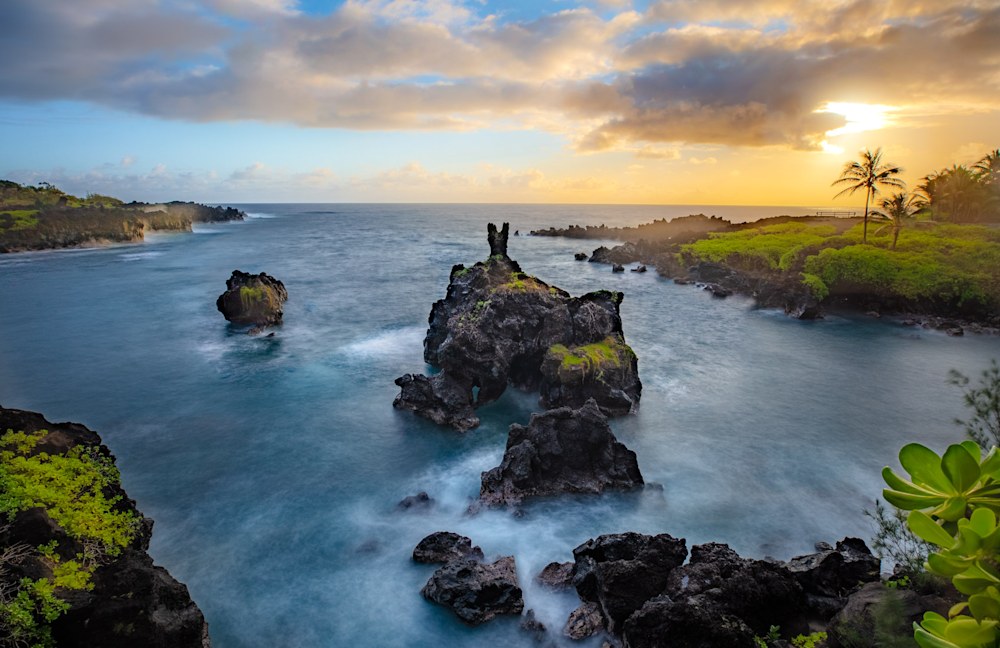 The sunrise shot at Waiʻānapanapa State Park in Hana has some magic – those raw lava cliffs and churning waves. We had visited this spot the previous day and I discovered this angle.
Later on the western side of Maui, I found a road pull off just south of Lahaina. This little beach offered some classic possibilities: a bleached tree, the low tide leading line, and as I tried ideas out, an old truck heading past on the blacktop. A recipe for timeless simplicity.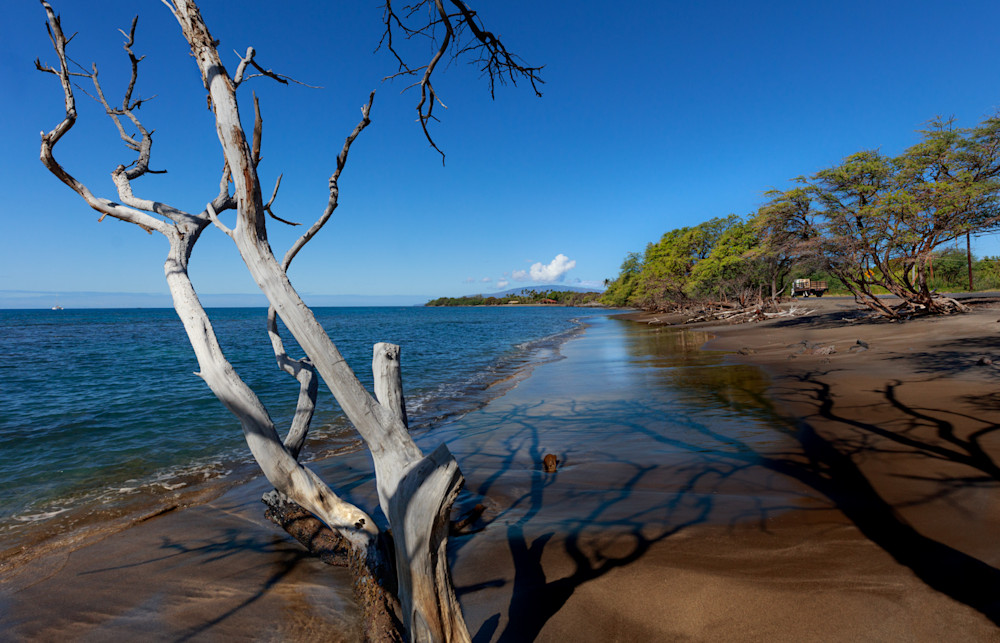 At this point my goal is to assume that each location I visit has its own geology, light, cultural value, palette.
The Kauai of Dreams
In a way each time you head out with a camera, you're looking at what you're given with new eyes. But that instinct gets heightened when going to a place you've never been. Seeing the light you're given, the palette, the geology of a location.
As the oldest of the four key islands (by a couple million years), Kauai is the most shaped by nature, the greenest, softest, most luxurious – the Garden Isle. It has several iconic locations, Waimea Canyon, Kilauea Lighthouse and the Na Pali Coast. Spotws that have all the artistic elements done right. So one of our first journeys was into western Kauai, up Waimea Canyon Rd – with a final stop at the Na Pali Coast overlooks. Like on my visit in the 80s.
Here, an overlook of lower Wailea Canyon. We're still in Golden Hour light with this one. The plateau on the right had a warm energy but my main interest was the stream that snakes its way up the lush canyon. There's a small taro farm downstream and just out of frame. The spot got me to thinking this is pretty much how Kauai was a thousand years ago.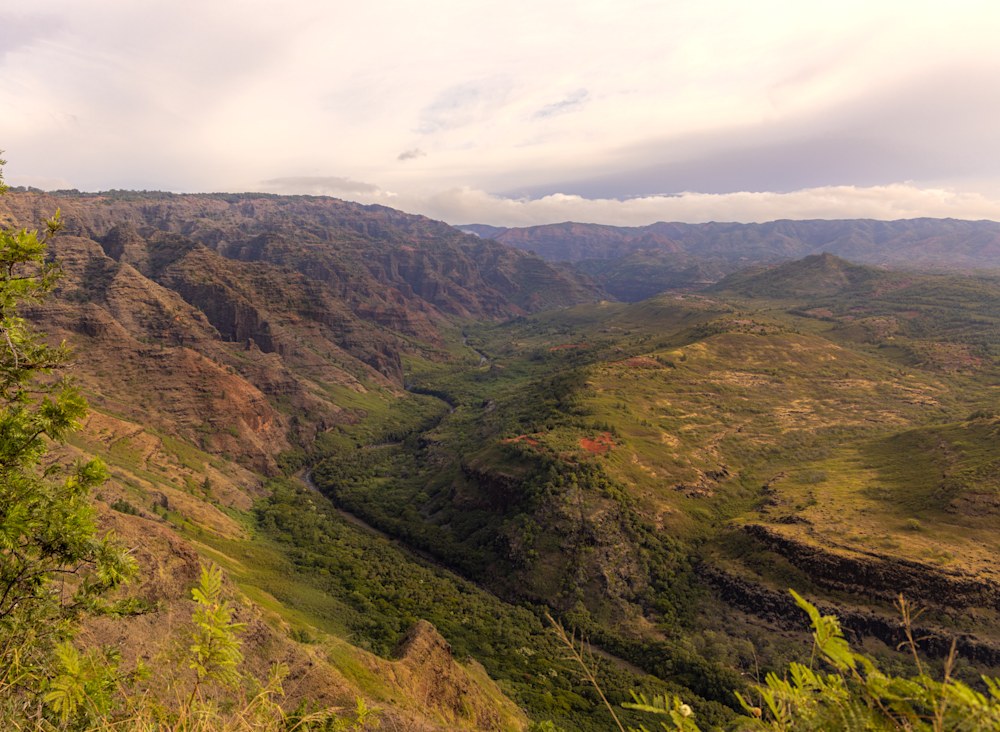 Further up the canyon road, the asphalt ends at a parking lot and viewpoint that over looks the northern side of Na Pali. It's a shot everyone does in one form or another -- and so did I. But I wanted more. So I headed past the fenced in area and down a muddy path e cliffs. Off to the side, it's almost a straight drop -- but dense with jungle vegetation. And there was this small berry tree that stood out against the volcanic cliffs. Sweet.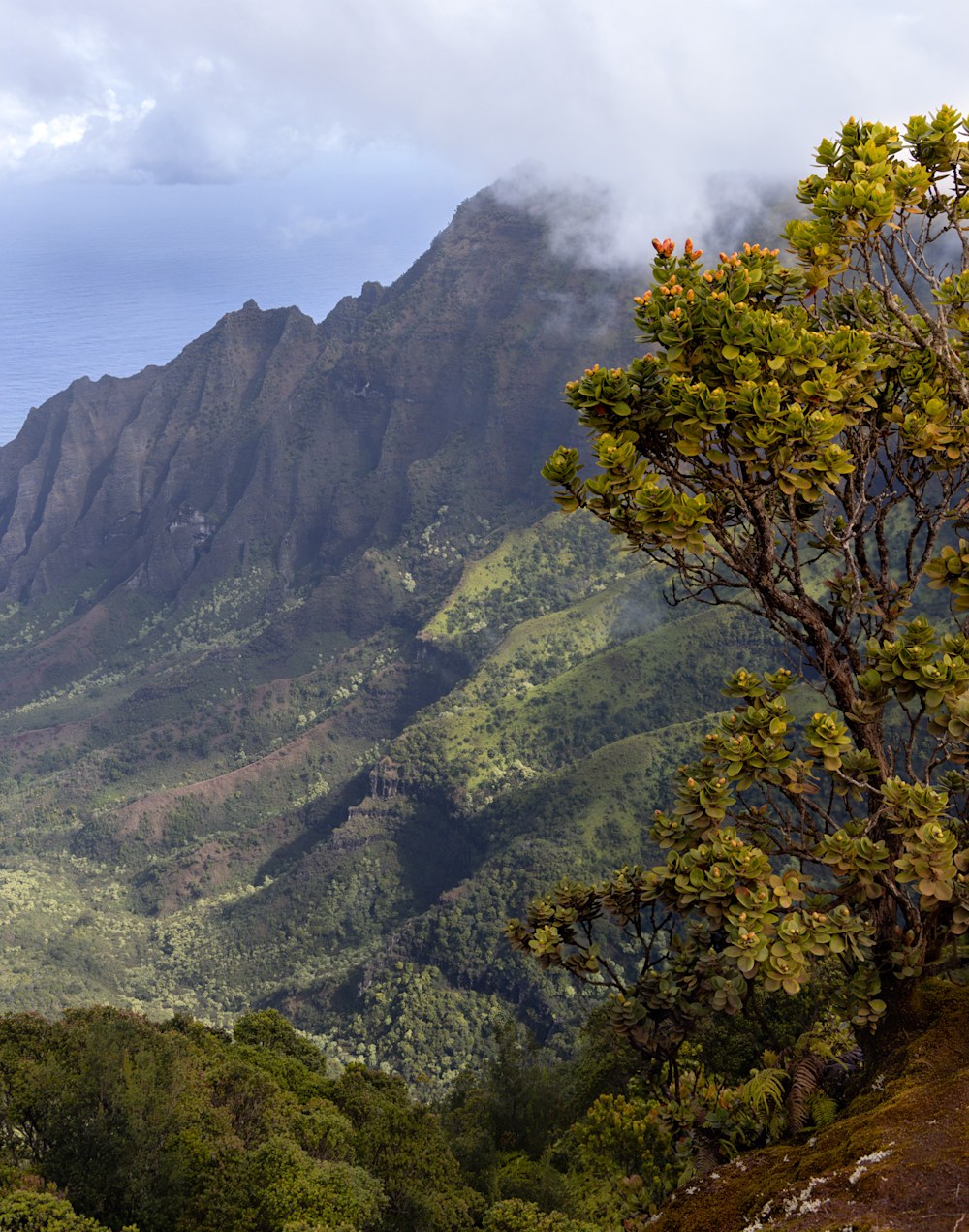 Beyond the Iconic
There's no question that iconic locations make for dramatic photographs. Some spots just provide a more concentrated visual impact, more sense of awe. But often the more intimate locations, the ones not in the guidebooks, give a more personal sense of place, and mood. The windward coast of Kauai has that kind of beauty – and it's east facing.
The image below is Kealia Beach, a 10 minute drive from the hotel (if you're driving before dawn). The subject at this location was a pine tree, a solo pine I discovered on an earlier trip.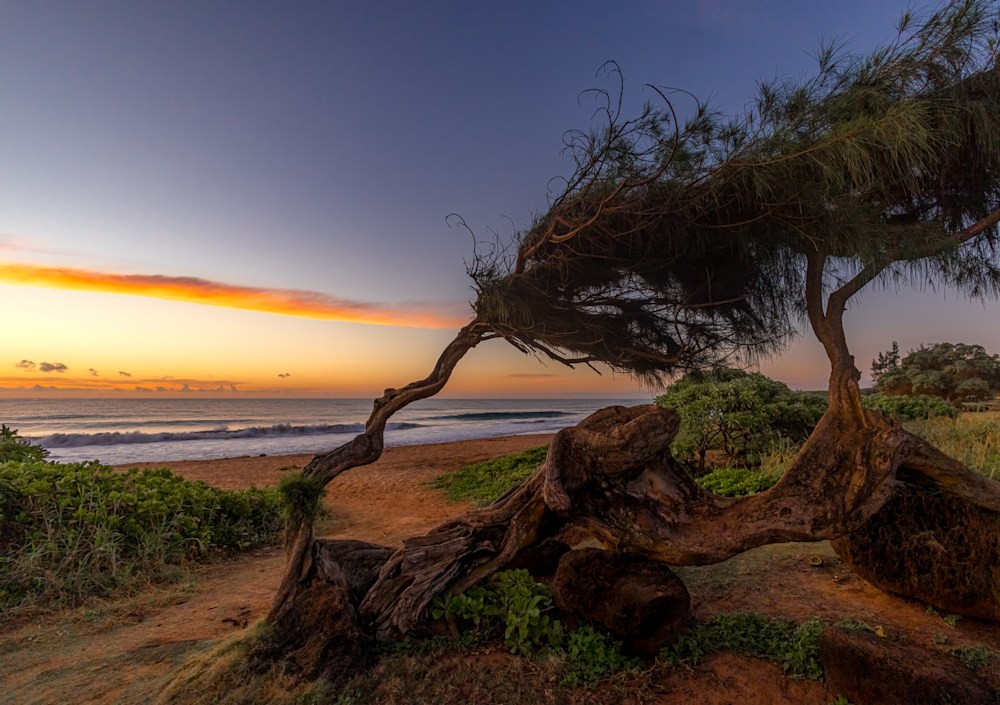 A Wind-Swept Pine at Blue Hour
The visual journey is wind-swept pine as foreground that leads the eye to the path down to the beach -- backlit by dawn. Nothing fancy, just good color and simple design ingredients. But there's something more to this one, a quiet morning feeling.
Lydgate Beach was even easier for me to get to than Kailua, just walk 30 yards from the hotel. And on the first morning, there was a light show. Dawn light can slip away in minutes. But I paused to take it in. I don't ever just shoot a sunset; it's not enough of a journey by itself. So I took it all in and circled the scene till I got the foreground palms to lead the eye in. Given the light, I gave the palms lots of breathing space.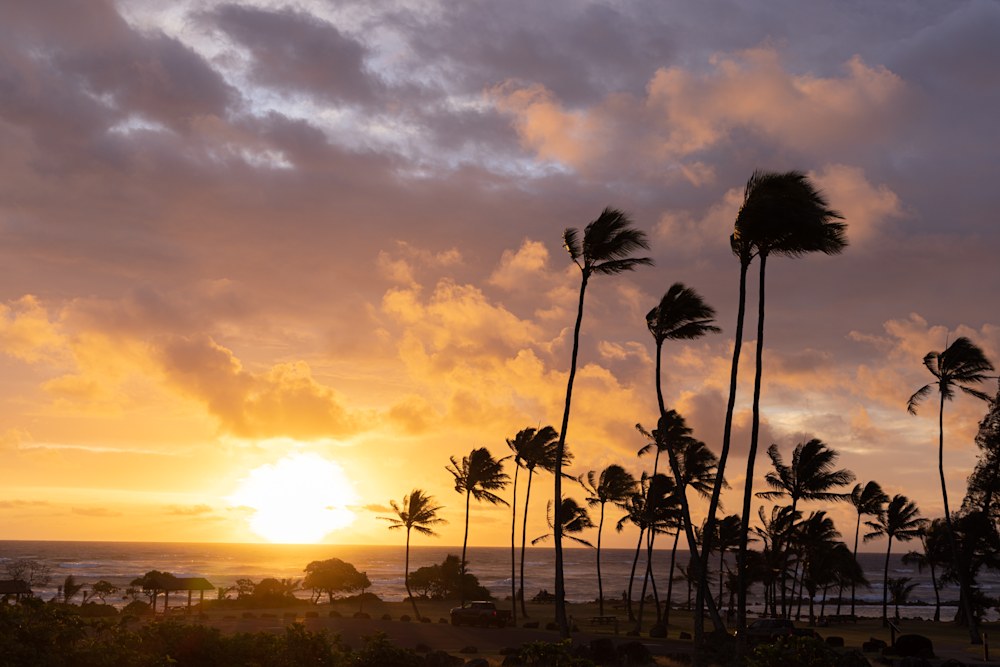 Palms at Dawn, Lydgate Beach Park
Lydgate Beach Park abuts Wailua River, the only navigable stream on the Islands. So the coastline along here has tons of tree trunks from upstream buried like bodies in the sand. That's plenty to play with visually.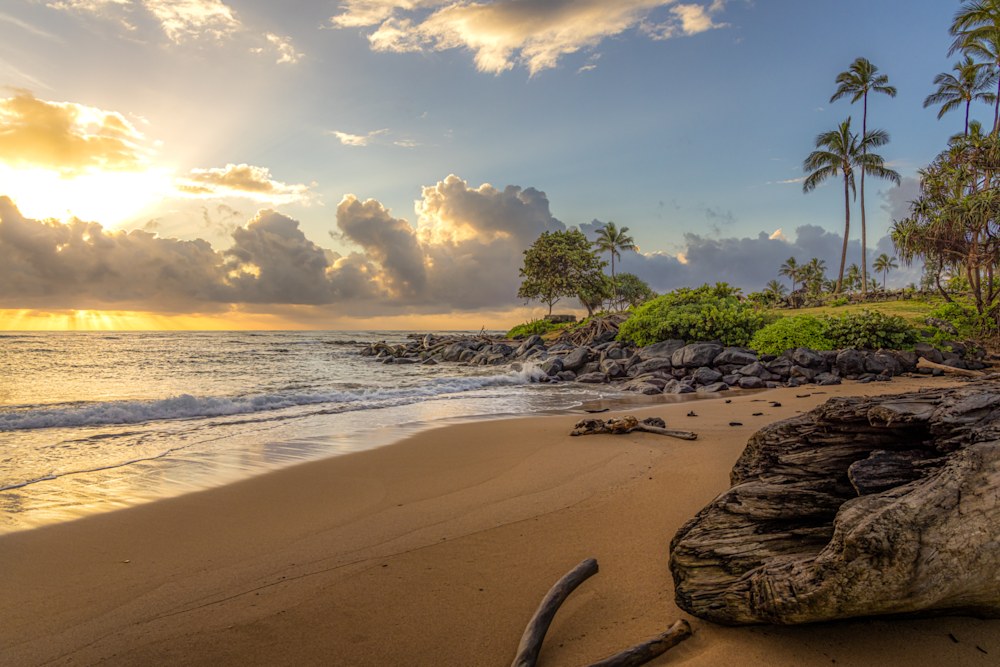 Morning with Tree Trunk, Lydgate Beach
These morning sessions were almost like photo meditations. Step out the door with a 16mm and a 24x105mm. Let the light lead me along. And you can't help notice the driftwood spread on the beach like jacks on a table.
As I moved further south along the coast, the sun warmed things up. Then, at the far end of Lydgate, a rope swing. Suddenly you're back in a childhood memory.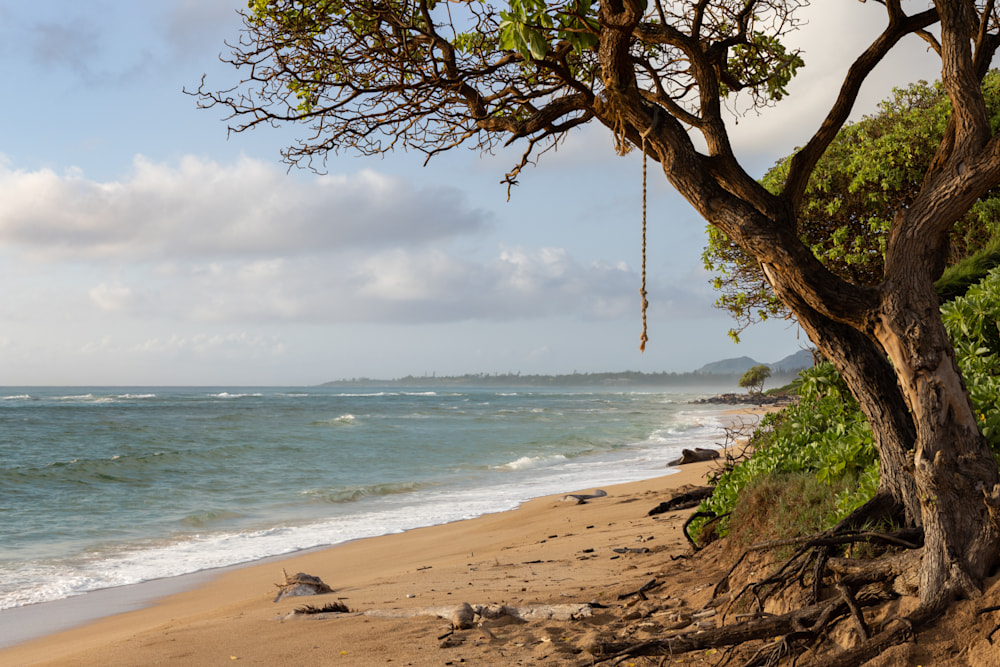 Neither Lydgate nor the other windward side beaches are considered iconic – there's none of the vertical expanse of the Kauai overlooks. But these generous beaches catch the morning sun. And in late winter each sunrise was a concerto of color.
When you have a morning with this much light spread across your canvas, it's a blessing from on high. The clouds stretching out like painted gold across the windward coast, a Zen garden of black lava separating a shadowed beach and the rushing sea. A definite blessing.
It also helps I was able to shoot just a bit after high tide. The beach became a smooth canvas for waves to paint on. Add a handful of sun worshippers to the scene… well.
To me these moments are almost too sumptuous for words. Somehow there's an anticipation you feel when light is this good. And you see stuff and get sucked into that space like you've entered a fairy tale. But the experience can also work against you. Because a well-lit beach can become "pretty as a postcard" documentation instead of a layered art work.
The other challenge is how often people see something that has obvious beauty and they label it as postcard beauty. But who says artistic truth has to be in your face ugly? There's truth inherent in good landscape work -- in seeing a place for what it is even if it has a natural beauty. Seeing the simple beauty of things can be quite powerful if the photog captures the feeling of a location without commenting, without projecting a nostalgic prettiness.
The ultimate question should be, does the image communicate a mood. If we're sharing human experience, there's nothing wrong with that image being lovely. Hawaii can't help being a beauty.
One final image from windward Kauai.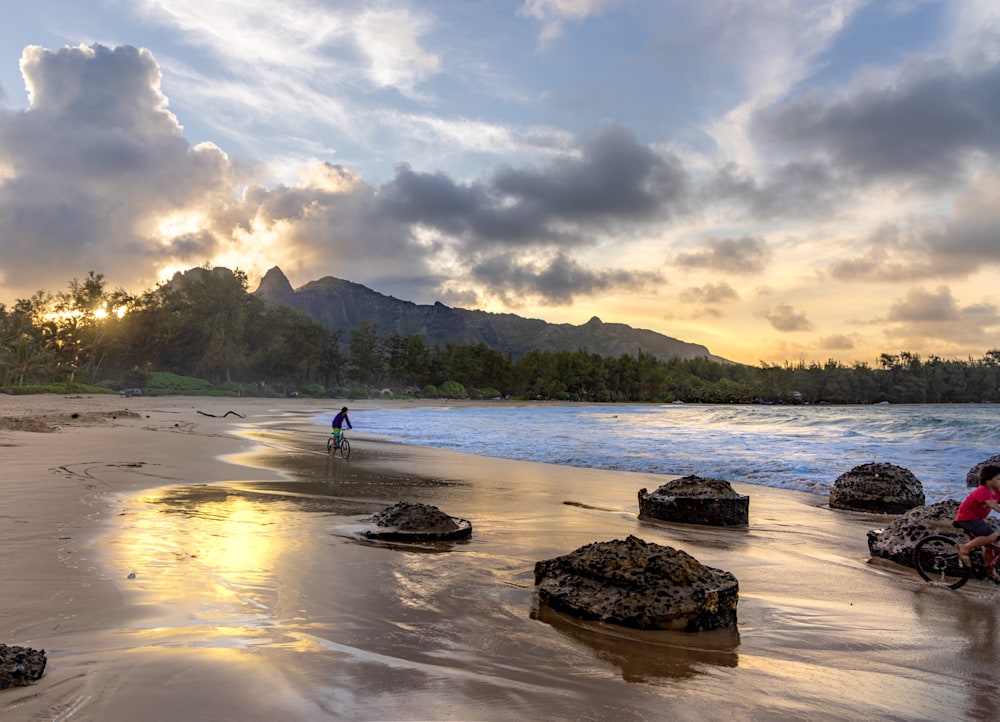 An Evening Spin, Anahola Beach At sunset you might just catch the local kids biking past the old pilings.
One final thought. I printed up a 12x18 of Wind-Swept Pine, Blue Hour, it's up in the living room. It catches the morning light and will transport me to Kealia Beach if I let it. And as the light changes in the room, the photograph changes in some subtle ways. But always with a quietness underneath the surface of things. But it had to start with listening.
Note: I have several Hawaii images in my Ocean Moments Portfolio -- along with images from Big Sur, Faroe Islands, Oregon, So Cal. All these spots are world-class seascape locations. Hawaii is also unique. And in a way, this portfolio exists because Hawaii can seem too pretty-as-a-picture. Picture postcards are a cliché after all. But Hawaii is a world-class location. The islands have so much to offer, a strange volcanic beauty and a soft abundance. Nature as the goddess Pele. The challenge was to distill the island energies through the camera's flat, mechanical eye.